Service center Malmö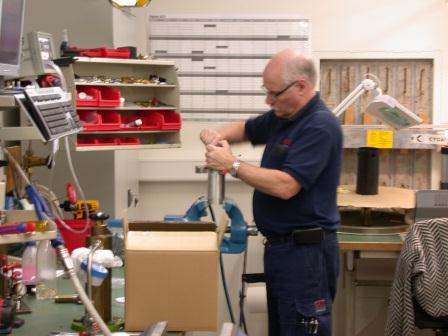 Although our quality products have a very long lifetime, it happens that things need to be repaired and preventive maintenance is a prerequisite for long and safe operation
We know how important the high availability of gas is for our customers, in everything from healthcare to laboratories and for industrial applications.
To the extent possible, to help our customers, we are available the whole lifetime of the product. We can be there even before.


Our service offering includes the following:
Education
Preventive maintenance
Repair
Inspections
Service of products sent to us
We know how important it is with availability of gas. In medical applications, it is even a matter of life or death. Therefore, we offer a wide range of services for long term ensuring optimal operational availability to our customers.
Download our service brochure for medical service.PDF
CUSTOMER RETURNS FORM
Our intent is to offer quick and high quality service as well as to protect the health of our staff. Therefore we kindly ask for your understanding that we can only accept the return of our units and their corresponding accessories for complain with a completed declaration. If this declaration is missing we reserve the right to refuse and return the equipment at the customer's expense.
Return service
In our service center in Malmö, we have a complete workshop to service and repair. Our experienced service personnel with their extensive experience are able to solve the most parts. Of course, we do everything with CE marking.
Please contact our Service team or Customer service and they will give your quick help.See Contact
Expect it normally takes about a week to get the equipment repaired / serviced. If it is complex it may take longer, for example if we have to order spare parts. Is it urgent, please contact us and we will try to help you more quickly.
It is easiest if you send the products and an order form to us. You can find the form here: Order Form Return-download
The form is in Word using macro.Here you can see how to enable macros. If you do not have permission to use macros to print the document and fill it out and fax us.


Education
We can provide training for medical technicians, maintenance personnel for the central gas installations, installers. Most often, we conduct one-day training sessions for a maximum of 10 people per training session at our service center in Malmö. We can also conduct the training in your area, such as the hospital or external meeting rooms.


Our two standard courses fits most:
If you like we can also customize courses.
Contact Åke A. at service or John W. at sales and they will help you to create an appropriate education.


Preventive maintenance
A planned preventative maintenance is a prerequisite for high availability of all equipment. By agreeing preventive maintenance from us, you can safely rely on that your central gas system works.
Our most common service is a 3-year service and means annual inspection and service, and "Return service" or exchange.
In other words, we provide you with a high availability of gas in your business.